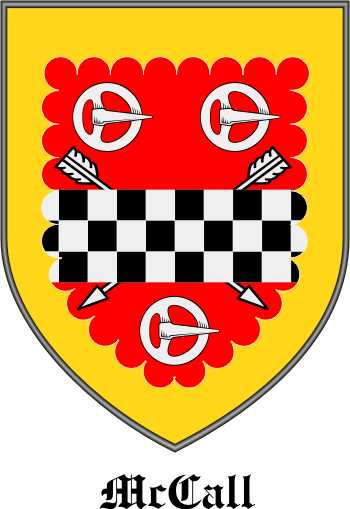 Get this crest printed on...
MCCALL Family History
This famous Scottish clan surname, recorded as Macall, Maccall, McCall, Maccaull, McKall, McKaile, and others, is a patronymic nickname, with two possible origin sources. Firstly it may be an anglicized form of the pre 7th century Olde Gaelic name "Mac Cathmhaoil". This is a derivation of the personal name "Cath-mhaol" which translates as "Battle Chief", or in this case "son of Battle-chief". An Alternate possibility is that it may be a variant of the patronymic Mac Cathail, "the son of Cathal" from the Olde Welsh "Catgual" meaning "war-wielder". Either way it is clear that the first nameholders were very much descendants of fighting men...