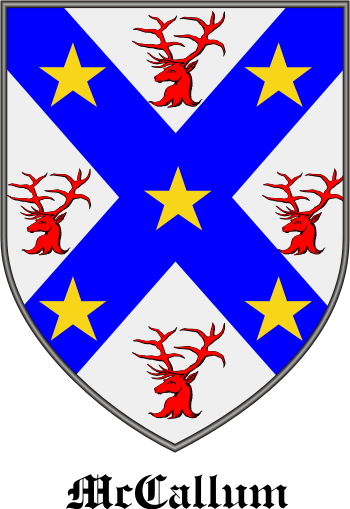 Get this crest printed on...
MCCALLUM Family History
This is a surname of Gaelic origins which is recorded in an astonishing number different spellings. In so far as there is a 'correct' one it is generally accepted to be MacColum, although no doubt holders of the spellings MacColum, Macallam, MacColm, MacCollom, McCallum, McCollum, McColum, McColm, Colum, and many, many, others, may disagree. The original spelling was 'Mac Coluim' or 'Mac giolla Choluim' both of which have essentially the same meaning of the 'descendant of Coluim'. The famous Irish etymologist Woulfe claimed that the name derived from 'colum' meaning 'dove', and gave examples such as Mac giolla Choluim, MacGillacolm, and MacElholm, all forms recorded before circa 1550, and now totally obsolete...