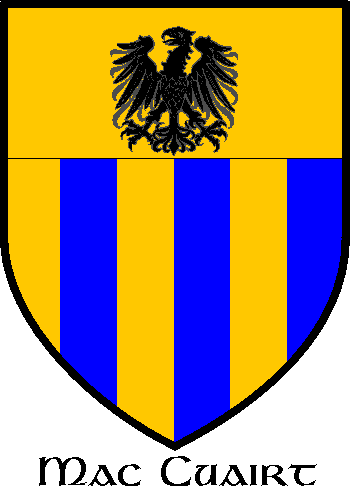 Get this crest printed on...
MCCOURT Family History
Recorded in several forms including MacCourt, McCourt, McCord, McCoard, McCard, and even occasionally Courtney, this is an Irish surname much associated with the province of Ulster. It derives from the Old Gaelic name "MacCuarta" or sometimes "MacCuairt", translating as "the son of Cuairt", a byname meaning "visitor". The clan originated from the ancient territory of Oriel, which comprised mainly the modern counties of Armagh and Monaghan, with parts of Down, Louth and Fermanagh. The village of Cappagh near Dungannon, in County Tyrone is written in Gaelic as "Ceapach Mhic Cuarta" which translates as an outlying settlement of the Mac Cuarta's, one remote from the main sept...