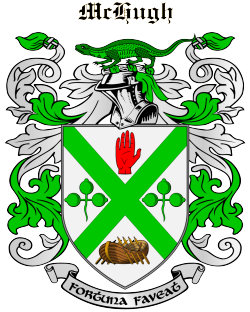 Get this crest printed on...
MCHUGH Family History
Recorded in many spellings as shown below, this is a famous Irish surname, although one probably of Manx and maybe Norse origins. Certainly it a derivative of the 11th century Mac Aodha, meaning the son of Aodh. This was a personal name meaning fire, and associated with the pagan god.Aodha. In Ireland the clan was originally divided into two main septs or branches, one at Tuam and the other in Connemara. In the modern era, that is after 1660 at least fifteen spellings of the name have developed, and no doubt others will be dicovered. These include MacHugh, MacKay, MacKea, MacKee, MacKew, MacKue, Mackey, MacKie, MacCoy and the popular short forms commencing Mc...