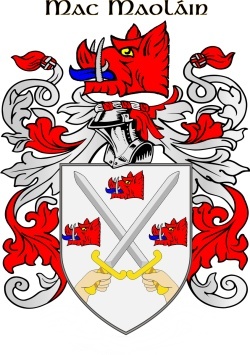 Get this crest printed on...
MCMULLEN Family History
Mullen (McMullen, MacMullen) is a surname of Irish and Scottish origin. It can be a variant of Mullins, Moylan or derived from the Gaelic "O'Meallain" clan of County Tyrone, usually anglicized as Mallon. Mullen can also derive from the forname of Maelan and its downstream clan Mac Maolain, Lord of Gaileanga Mor d.1144 AD or alternately connect to a branch located in Ulster Province where it is often a form of the Scottish name MacMillan.