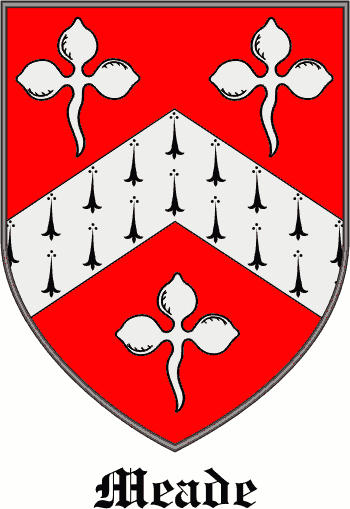 Get this crest printed on...
MEADE Family History
This interesting name, with variant spellings Meade, Mead, Meads and Medd, has two distinct possible origins, the first and most likely being an English topographical name from residence, in or by a meadow. The derivation in this case is from the old English pre 7th Century "moed", (Medieval English "mede"), a meadow and John Atemede, witness - the 1248 "Fine Court Rolls of Essex" is the earliest recorded namebearer. Other early recordings include: Nicholas atte Mede, (Somerset 1307); Richard in the Mede (Surrey, 1332); Willelmus del Mede, (Yorkshire, 1379) and John Mede, (Kent, 1454). The second possibility is that the name originated as a metonymic occupational name for a brewer or seller of "Mead", a fermented beverage made from honey and water, often with spices added, the derivation being from the old English "meodu", mead...