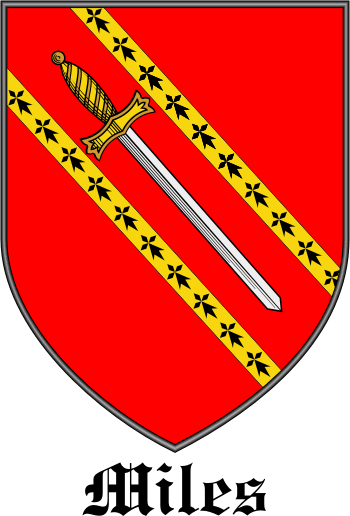 Get this crest printed on...
MILES Family History
This interesting name is English but of Norman French origins. First introduced into England at the famous Conquest of 1066, it is thought to derive from the Germanic personal name "Mild", itself possibly from the Slavic word "mil", meaning mercy. In English documents of the Middle Ages, the name normally appears in the Latin form "Milo", but the usual spoken form would have been "Mile", so we assume that the final "s" represents the possessive or patronymic ending meaning "son of Mile". Early examples of the surname recording include those of Ralph Miles in 1292. Given as being a fishmonger of Bridge Ward, it is said that he founded a charity in the name of the late Lord Milo, and subsequently adopted his masters name, whilst William Augustus Miles (1753 - 1817) was a notable political writer...