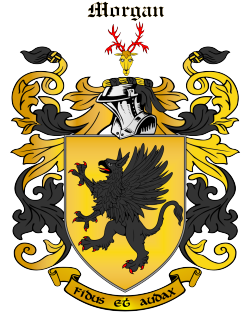 Get this crest printed on...
MORGAN Family History
This is a truly famous surname whose Gaelic-Celtic ancestry pre-dates Christianity. Originally, the name was purely personal and spelt as "Morcant", the change to Morgan being medieval. The exact meaning is uncertain but "sea chief" or "sea defender" are the generally accepted interpretations. The importance of the name is shown by its incorporation in the ancient Welsh kingdom of Glamorgan, a corrupt form of "Ap Morgan", the son of Morgan. The first true recording as a surname is however English (see below). In Wales the first recording may be Thomas Morgaine, Knight of Monmouth, in 1538, whilst in Scotland, one John Morgane was a burgess of Glasgow in 1419...