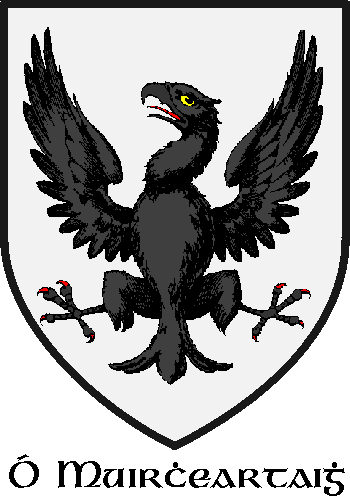 Get this crest printed on...
MORIARTY Family History
This famous surname is Irish. It is a developed form of the Olde Gaelic pre 10th century surname O'Muircheartaigh. The prefix O' indicates male descendant of, plus in this case a personal or perhaps occupational name "Muircheartach" meaning " The navigator". This sept originally closely associated with the O'Donoghues and the O'Mahonys, and belonged to County Kerry. Their territory lay on both sides of Castlemaine Harbour where they held great sway prior to the Anglo-Norman Invasion of 1170. Henry Augustus Moriarty (1815 - 1906) was true to his name, a renowned navigator who was highly acclaimed for his success in the recovery of first Atlantic telegraph cable which broke in mid-ocean in 1866...