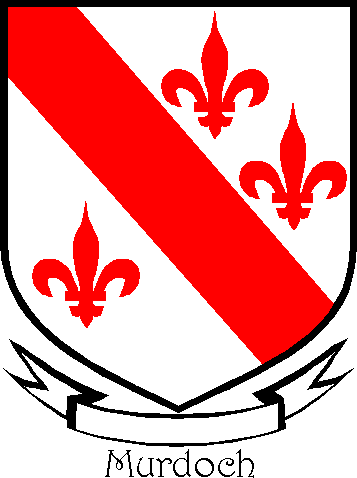 Get this crest printed on...
MURDOCH Family History
This interesting name is Gaelic in origin, and is the Anglicized form of two Gaelic personal named that, over time, have coalesced into one, usually written as "Muire(adh)ach". The two original names were "Muiredach", a derivative of "muir", sea, which meant "belonging to the sea", a mariner and "Murchad", meaning "sea-warrior". The resulting personal name was introduced into Yorkshire before the Norman Conquest of 1066 by Norwegians from Ireland, and is recorded in the Domesday Book of 1086 as "Murdac, Murdoc" and "Meurdoch". The modern surname is thought of as Scottish, but it was not until the reign of William the Lion, King of Scotland (1165 - 1214) that one Walter Murdoch is recorded as witness to several charters...