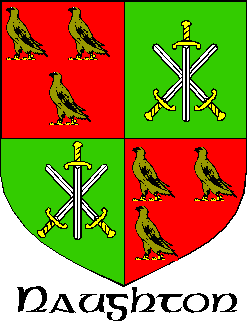 Get this crest printed on...
NAUGHTON Family History
This is one of those very confusing surnames which has both multiple spellings, multiple nationalities and multiple meaings, and is found throughout the Isles of Britain! Recorded as O'Naughton, MacNachtan, MacNaughton, Naughton, Nawton, and possibly others, it can be English, or Scottish or Irish, or even a mix of any of them. If Gaelic, by which we mean Scottish and Irish it may be an anglicized form of the personal name "Nechtan or Neachtain", believed in mythology to be the god of water. It has been suggested that these names themselves originate from Roman god "Neptunus", who could be described as the original sea god...