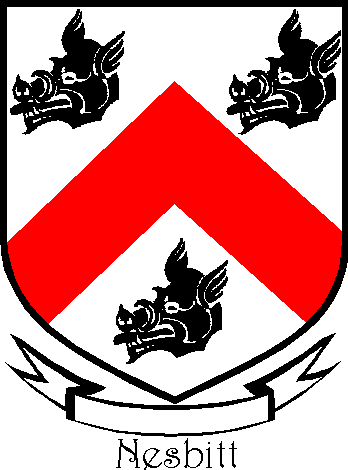 Get this crest printed on...
NESBITT Family History
Recorded in the varied spellings of Nesbit, Nesbitt, Nesbet, Nesbett, Nesbeth, Nesbath and Nesbut, this unusual name is both locational and Anglo Scottish. It originates from either the barony of Nesbit in Berwick, or the villages of Nesbitt or Nesbit, in Northumberland and Durham. However spelt the origin is Olde English pre 10th century "nesebit", a word which describes a steel bit which joins the cheek pieces together. This would suggest that either the villages were originally famous for manufacturing this type of bit, or that second element does not mean bit but bight, a north country word for a bend, meaning that the villages stood on "noselike bends" of a river? What is certain is that the villages were recorded as "Nesebit" in the 1242 Court Lists of Northumberland, and as "Nesbitt" in 1311...