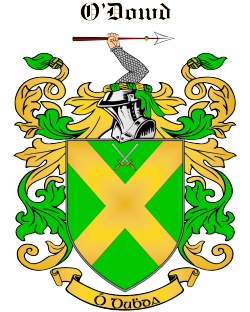 Get this crest printed on...
O'DOWD Family History
Recorded in several spelling forms including O'Dowd, Dowd, Dood, Doody, Dowda and Duddy, this ancient name is Irish. It derives from the pre 10th century Gaelic O' Dubhda. The prefix "O" indicates "male descendant of", plus the personal name Dubhda. This is from the word "dubh" meaning black, and probably referred to a chief with particularly dark hair or complexion. The sept claim descent from Fiacha, the brother of Niall of the Nine Hostages, a 4th century king of Ireland. For many centuries the O' Dowds were the leading sept in the ancient territory of Ui Fiachrach. This comprises the modern counties of Mayo, Sligo and parts of South Galway...