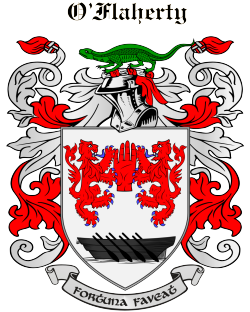 Get this crest printed on...
O'FLAHERTY Family History
This most interesting surname is of Old Gaelic origin, and is the Anglicized form of the Gaelic name "O'Flaithbheartaigh", composed of the Gaelic prefix "O", male descendant of (which in this case has been dropped, over the years), and the personal name "Flaithbheartach", from the Gaelic elements "flaith(eamh)", prince, ruler, and beartach", bright, acting. This was the name of a prominent Gaelic sept who possessed the territory on the east side of Lough Corrib until the 13th Century, when, under pressure from the Anglo-Norman penetration into Connacht, they moved westwards to the other side of the lake. Here their influence extended from Killary Harbour to the Bay of Galway, and also included the Aran Islands...