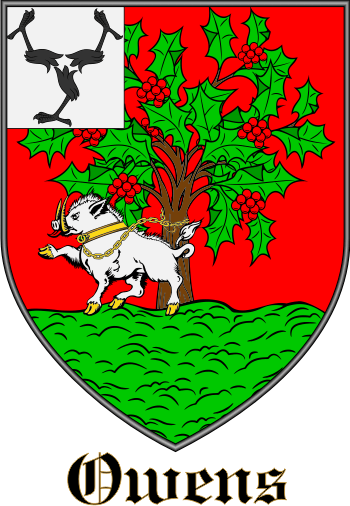 Get this crest printed on...
OWENS Family History
Recorded as Owens and occasionally Owenson, this is a Royal Welsh surname, being, it is claimed, descent from the ancient tribes of North Wales. It is a patronymic of Owen, which is derived either from the ancient Celtic personal name Owain, adapted from the Latin "Eugenius", meaning "well-born", or from the Old Welsh word "oen", meaning the lamb. Given the warrior status of the clan, this seems an unlikely explanation. Owain or Owen has long been one of the most popular of all Welsh personal names, and some thirty-nine Owains are featured in ancient Welsh legends. Hereditary surnames were a later adoption in Wales than almost any other European country, not becoming 'fixed' until the 17th century/ Examples of the name recording include Owen Gwynedd, a 12th Century chieftain, and Owen Glendower (Owain Glyndwr), 1353 - 1416, the greatest hero of Welsh history...