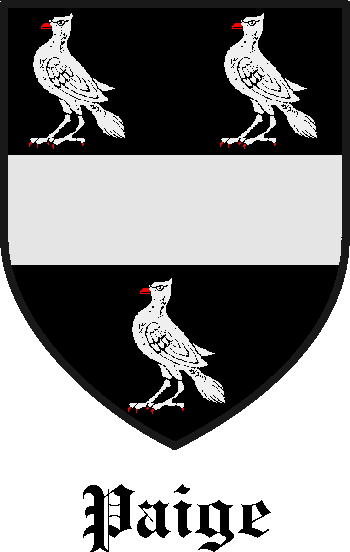 Get this crest printed on...
PAIGE Family History
This interesting name relates back to the origins of chivalry and heraldry and is an occupational descriptive name derived from the Middle English and Old French, "page", a friend or servant or a knighthood - many preferred to stay as a page. The name is not recorded before the Norman Conquest of 1066. One William le Page appears as a witness in the Court of Fines, Essex 1240. William Webster married Margery Page at Longhborough, Leicester on May 21st 1541, while Barbara, daughter of Thoma Page, was christened at South Kilworth in Leicester on October 29th 1574. One Margery Norton married Dunstone Page at Thurcaston-cum-Cropston, in Leicester on July 25th 1584...