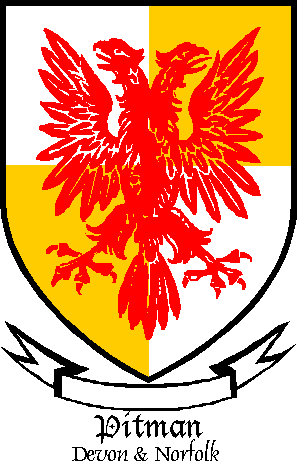 Get this crest printed on...
PITMAN Family History
This interesting surname recorded in the spellings of Pitman, Pittman, Pettman and Putnam, is of Anglo-Saxon origins. It is a topographical surname used in the first instance for someone who lived by a pit or a hollow in the ground, perhaps a quarry. The derivation is from the Olde English pre 7th Century word "pytt", pit, hole, cavity, which also appears, though rarely, in some English placenames, such as "Pett" in Kent, meaning "(place by) the pit or hollow", and "Woolpit" in Suffolk and in Surrey which have the picturesque meaning of "the pit for trapping wolves". Initially topographical surnames were among the earliest created, since both natural and man-made features in the landscape provided easily recognisable distinguishing names in the small communities of medieval England...