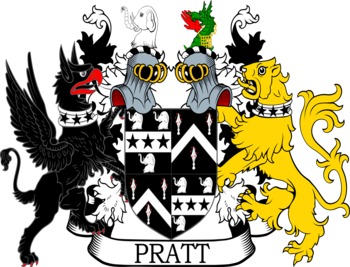 Get this crest printed on...
PRATT Family History
Recorded in various spelling forms including Pratt, Prate, Prett, and Pritt, this interesting surname is of Anglo-Saxon origins. It is derived from a pre 7th century word "praett" meaning a trick; and as such was probably a nickname for a magician or conjuror. It is an example of that sizeable group of early European surnames that were gradually created from either an occupation, or from a variety of characteristics, such as physical attributes or peculiarities, mental and moral characteristics, and to habits of dress.