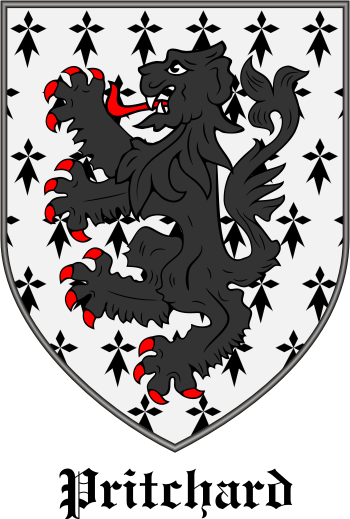 Get this crest printed on...
PRITCHARD Family History
This notable surname is of medieval Welsh origin, and is a patronymic of the male given name Richard, formed from a fusion of the Welsh suffix "ap", with the personal name. Richard derives from the Old German "Ric(h)ard", a compound of the elements "ric", power, and "hard", hardy, brave, strong. Found occasionally in pre-Conquest Britain as "Ricehard", the name was not popularized in England until after the Norman Conquest of 1066, and "Ricard" (without surname) appears in the Domesday Book of 1086. A quotation from the Privy Purse Expenses of Princess Mary reads, "Item, geven to William ap-Richard vs."; in 1545, a William Ap-Richard or Prichard was entered in the Oxford University Register...