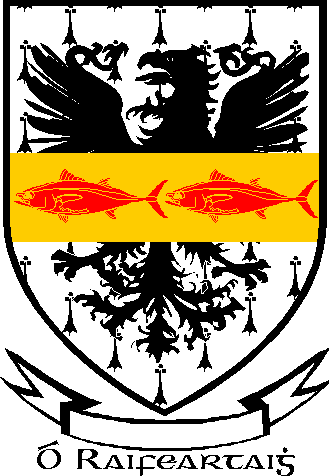 Get this crest printed on...
RAFFERTY Family History
Recorded in several forms including O'Rafferty, Rafferty, McGroarty, and McGrorty, this notable Irish surname much associated with the west of Ireland, derives from the pre 10th century Old Gaelic "O'Raithbheartaigh". This translates as "prosperity wielder" from the elements "rath", meaning prosperity, and "beartaigh", to brandish or wield. Traditionally, Irish family names are taken from the heads of tribes, or revered elders, and are usually prefixed by "Mac", denoting "son of", or "O", meaning male descendant of. The great O'Raithbheartaigh sept belonged to the Ulster county of Donegal where they were co-arbs of St. Columcille on Tory island. Co-arb families held church property from generation to generation, and generally maintained a priest...