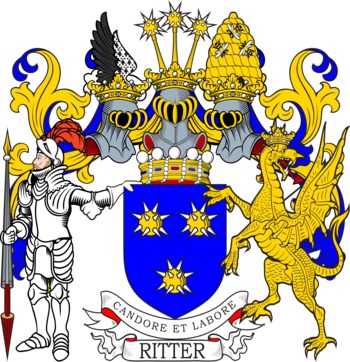 Get this crest printed on...
RITTER Family History
Recorded in England as Rider and Ryder, and in Germany as Retter and Ritter, this is a surname of two possible meanings. The first is from the Anglo-Saxon and Germanic pre 7th century word "ridere", itself from ridan, meaning to ride, and as such an occupational surname given originally to a mounted warrior or 'cnit', the modern knight. In England after the Norman Conquest of 1066, and the introduction of the feudal system, rider or ryder described a messenger, whilst knight became a status name and described a landed tenant, one who was bound to serve his lord as a mounted soldier.