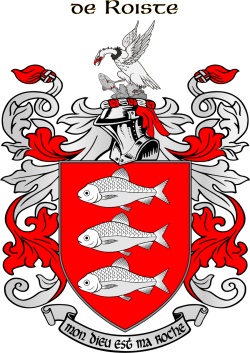 Get this crest printed on...
ROCHE Family History
While popular in Ireland, the first documented usage of the Roche surname was in Portugal from a Monsignor de la Roche who arrived in Portugal on his way to the Holy Land from possibly Flanders during the reign of Afonso III of Portugal and assisted in the taking of Silves from the Moors. His descendants used the Portuguese version of the word, 'da Rocha'. Another wave of the Roche family arrived from the Diocese of Fermoy, Ireland where they were viscounts during the reign of Joao I. This family helped with the Portuguese war against Castile and this gentlemen had three sons, Gomes, Louis, and Raymond. It is from D. Gomes da Rocha where the Portuguese version of the name continued onto later generations.