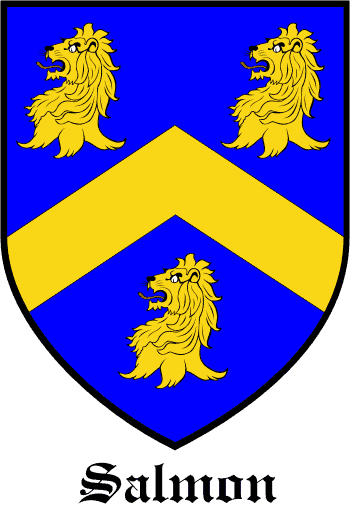 Get this crest printed on...
SALMON Family History
This intriguing and unusual name is of early medieval English origin, and derives from the Middle English and Old French given name "Salmon" or "Saumon", a contracted form of Salomon. The ultimate origin of the personal name is from the Hebrew male given name "Shelomo", a derivative of "shalom", peace. Salomon and its variant forms was a popular given name among Christians and Jews during the Middle Ages; it is recorded as "Salomon" in the Domesday Book of 1086, and one "Salamon clericus" is recorded in Suffolk in 1121. Salomon was the usual medieval form, used in the Vulgate Bible, and by Tyndale and Cranmer, while Solomon is the form used in the Geneva Bible and the Authorized Version...