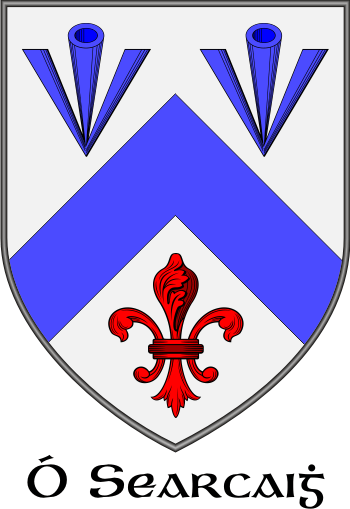 Get this crest printed on...
SHARKEY Family History
This interesting surname is of Irish origin, and is an Anglicised form of the Gaelic "O'Searcaigh", composed of the elements "O", male descendant of, with "Searcach", a byname meaning "beloved". The name originated in County Tyrone, and is now to be found located in considerable numbers in various parts of the northern half of Ireland, chiefly in counties Roscommon, Donegal and Louth. It appears as O'Serky as well as O'Sharky in the 17th Century Hearth Money Rolls of County Monaghan; but the prefix "O", dropped in the 18th Century, has not been resumed to any extent. Seamus O'Sharkey, a Gaelic poet of the O'Naghten circle in the 1720's, wrote a love poem based on the fact that his surname derives from the Irish word "searc", meaning darling...