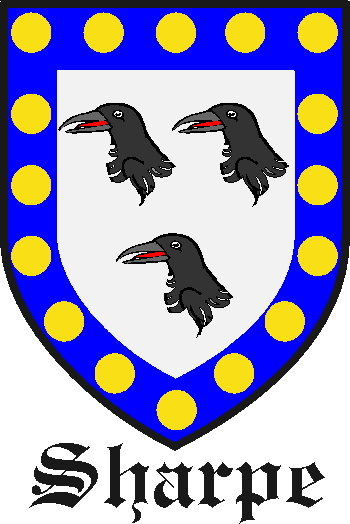 Get this crest printed on...
SHARP Family History
Recorded as Sharp, Sharpe, and the diminutives Sharpin, Sharplin and Sharpling, this is an English surname. It is a good example of a surname originating from a medieval nickname, with the derivation from the Olde English pre 7th Century wrd "scearp", meaning sharp and used to describe a "sharp or smart" person. As a surname it is found recorded all over the British Isles with great frequency, as would be expected of a soubriquet likely to be handed down as being complimentary. The surname is first recorded in the early 11th Century (see below), with other early recordings including Ailmer Scharp in the Pipe Rolls of Hertfordshire for 1184; Aylmer Sarp in tax registers known as the Feet of Fines for Essex in 1228; and Alan Sharp in the Subsidy Rolls of Sussex in the year 1296...