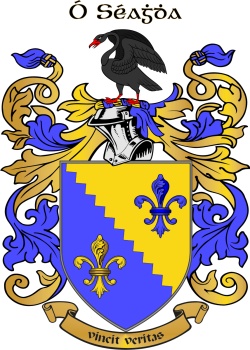 Get this crest printed on...
SHEA Family History
O'Shea (Shea, Shee) is an Irish surname (an anglicized form of the Irish patronymic name Ó Séaghdha), originating in the Kingdom of Corcu Duibne in County Kerry.
Shea/O'Shea/Shay= Originating in Counties Kerry and Cork, O'Shea came from O Se, coming the Irish Gaelic word seagdha, meaning hawk, but also has a secondary meaning of stately. They later moved north, west, and east into Tyrone, Louth, Mayo, Limerick, Galway, and Clare.
Thanks for the info Keller Clark