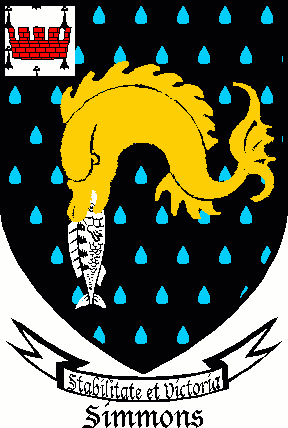 Get this crest printed on...
SIMMONS Family History
This interesting name is one of the many patronymic ("son of") forms of the surname Simon, itself created from the personal name, a common practice in medieval England. The personal name has two sources, the biblical "Simeon", from "Shimon", meaning "hearken", and the pre-existing Greek byname "Simon", from "Simos", meaning "snub-nosed". Both forms were very popular in Europe in the Middle Ages, though "Simon" more so because of the associations with the apostle Simon Peter. There was some confusion in Britain with the Anglo-Scandinavian forms of "Sigmund", and the Norman "Simund". Robertus Symmes was recorded in 1379 in the Poll Tax Records of Yorkshire, as is Johannes Symson...