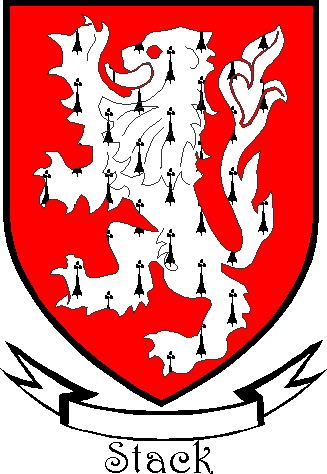 Get this crest printed on...
STACK Family History
This is a famous Anglo-Irish name, although the origin is Norse-Viking, pre 7th Century from "Stakkr". The name is job descriptive for a builder of Stacks, specifically hay stacks, and therefore a form of agricultural contractor. This peaceful occupation seems rather at odds with the "Stacks", later reputation in that the Irish holders of the name, who originally formed part of the English 14th Century Colonist policy, turned against England and were ferocious opponents in the Elizabethan Wars. The name is an early surname, the recordings include Simon Stakke of Hampshire in 1244, whilst in Ireland, John Stack was Bishop of Ardfert in 1588, whilst General Edward Stack lead the Irish Brigade (The Wild Geese) in the Napoleonic Wars (1792 - 1815)...