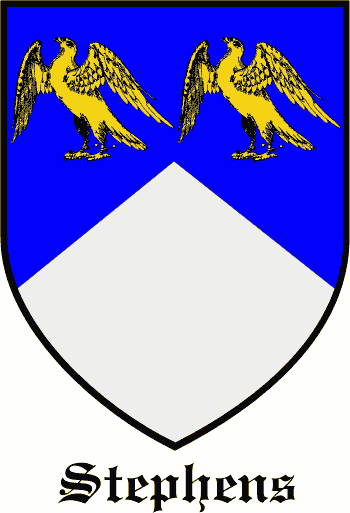 Get this crest printed on...
STEPHENS Family History
This is a patronymic i.e. "the son of Steven or Stephen", a personal name deriving from the Greek "Stephanos" meaning "Crown". Stephen was a popular name in the Middle Ages having been borne by the first Christian martyr. It is first recorded in England in its latinized form Stefanus (the Domesday Book of 1086). The surnames adopted from the name first appear in the latter half of the 13th Century - Robert Stephen (1260) and Agnes Stiven (1279) - The Hundred Rolls of Buckinghamshire. The patronymic forms Stevens and Stephens are recorded at that time also. An interesting name bearer was Catherine Stephens, Countess of Essex (1794 - 1882), a vocalist and actress listed in the National Biography, who sang at Drury Lane and Covent Garden, London and was 'unsurpassed for her rendering of ballads'...