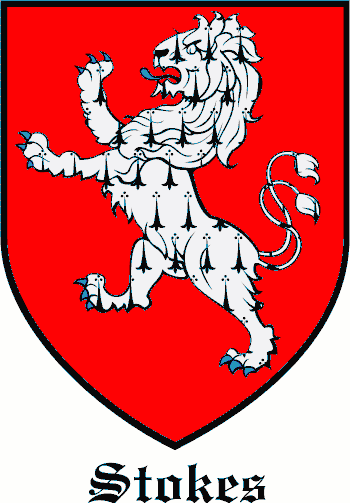 Get this crest printed on...
STOKES Family History
This ancient surname is of Anglo-Saxon origin, and is a locational name from the many places called Stoke, for example in Somerset, Warwickshire, Northamptonshire, and Derbyshire. In many instances the old forms of the placename appear in their plural form such as "Stoches" in the Domesday Book of 1086, and as "Stokes" in the Curia Regis Rolls of 1206. The name is derived from the Olde English pre 7th Century "stocc", stock, trunk of a tree, Middle English "stoke", thus, "the place of the stump-clearings". The surname dates back to the late 11th Century (see below). Early recordings include Cnut de Stock (1166) in the Pipe Rolls of Derbyshire, and Ailwin de Stokes (1195) in the Pipe Rolls of Northamptonshire...