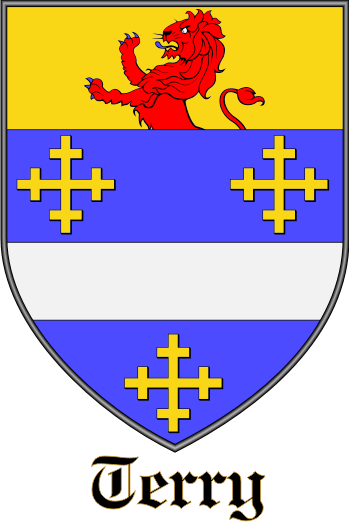 Get this crest printed on...
TERRY Family History
Recorded in over one hundred spelling forms including Terry, Terrey, Tarry (English & Scottish), Torrie and Torry (Irish), Thierry, Thiery, Thery, Theuret, Theurer, Thireau, Thoreau, (French), Theike, Tieck, Thiele, Tietze, Tilke, Tillich (German), and many more, this is a surname of pre 5th century Gallic origins. It derives from the personal name "Thierri", which is ultimately from the ancient "Theodoric", a compound of the elements "theudo" meaning people or race, and "ric", meaning power. Theodoric was the name borne by the Ostrogothic leader (circa 454 - 526) who invaded Italy in 488, and established his capital at Ravenna in 493...