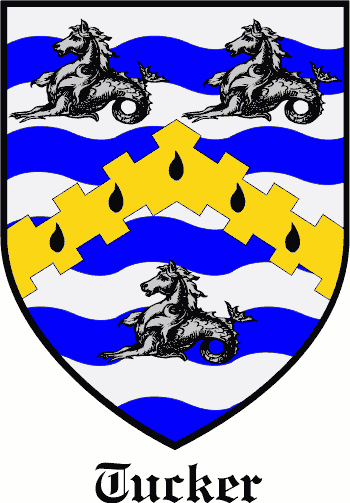 Get this crest printed on...
TUCKER Family History
Recorded as Tucker and Tooker (England), and as Tucker, Tooker, Togher, Tooher, Toher (Ireland), this is a surname of three possible origins. If English it is an occupational surname for a "fuller", a cloth-softener, also known as a "walker". Tucker was the usual term in the south-west of England, Walker in the west and north y and "Fuller" in the south-east and east Anglia. The derivation is from the Olde English pre 7th Century verb "tucian", meaning "to torment", referring to the softening of the cloth by beating and tramping on it in water. A second possible origin is from a French nickname "tout-coeur" meaning all heart, and given to a brave or generous person or pehaps given the sardonic humour of the period, - the reverse...