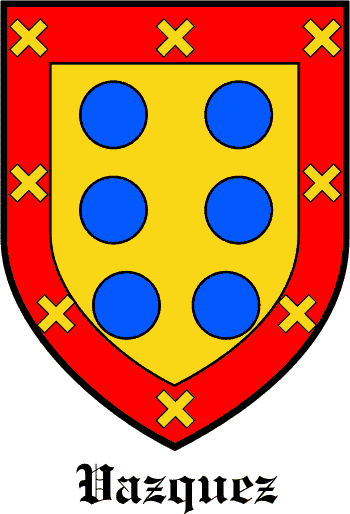 Get this crest printed on...
VAZQUEZ Family History
This famous surname is Spanish, but of Basque origins. Recorded in a number of forms including de Belasco, Belasco, de Velasco, Velasco, Vazquez, Velazquez, and the Portugese Vasquez and Vaz, the surname was thought originally to have been a nickname. However the presence in many early recordings of the preposition "de" meaning of or from, suggests a locational origin, and gives a meaning perhaps of the place of the crows. Whether a nickname or a placename the surname has developed from the ancient word of the pre 7th century words "vela or bela" meaning a crow, with the additional diminutive of "-sko" meaning little, and as a nickname presumably described somebody who was thought to have the characteristics of the often fierce bird...