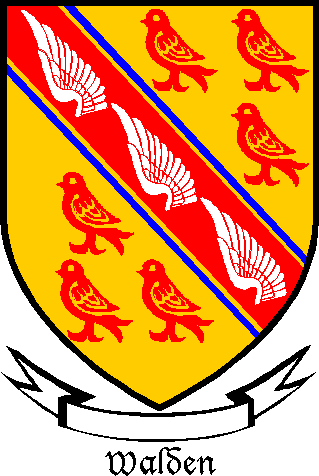 Get this crest printed on...
WALDEN Family History
This ancient and famous surname, enobled by the Barons de Walden, is of Olde English and Anglo-Saxon 8th century origins. It is a locational surname and originates from one of the places called "Walden" in either the counties of Essex, Hertfordshire, or North Yorkshire. The places in Essex and Herfordshire are recorded in the famous Domesday Book of 1086 authorised by William, The Conqueror, as respectively,"Waledana" and "Waldene". All three places share the same meaning and derivation, which is "the denu (valley) of the wealh " meaning "foreigners". "Wealh" is a word which in Olde English was used in different parts of Britain to denote at various times, Ancient Britons, and later Welsh and sometimes Scots...