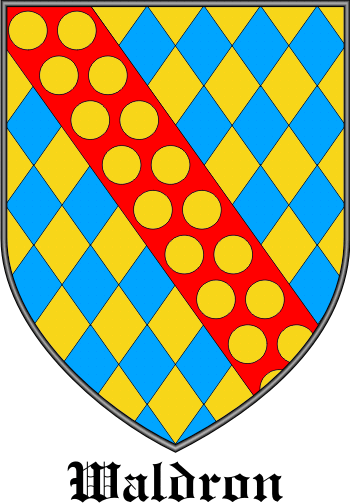 Get this crest printed on...
WALDRON Family History
This is a surname of ancient pre 7th century origins. Recorded in the spellings of Waldram, Waldren, Waldron, Waleran, and Walrond, it is an excellent example of a style of individual name from the "Dark ages". It derives from the Olde German personal compound name "Wala-hram", and whilst it may have been introduced into Britain by the 8th century Anglo-Saxons, the first certain recordings are Norman-French, or at least after the 1066 Norman Invasion. These are found in the 1086 Domesday Book for Essex in the Latinized spellings of "Waleranni" and "Galeranni". The name translates literally as "Wall-raven", but it is probable that the original meaning was more on the lines of "strong bird", walls being associated with great strength, whilst the raven is heraldically known for its wisdom and cunning...