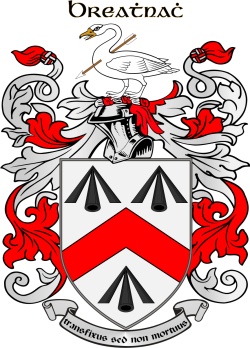 WALSHE Family History
This surname shows what a Wesh affair the Cambo-Norman incursions from 1169 were. The message is in the Gaelic form of the name Breathnach or - Welshman. These were the ancient inhabitants of Britain, and the Anglo-Saxons called them Welsh or - waleis/ foreigners! So the Walsh(e) surname is a microcosm of history. It is likely though that the Irish natives applied this epithet to any invader whether true Welsh or Norman, or a mixture of both, as many of them were, like the Geraldines. A list of counties of settlement, spreading from Wexford and Wicklow to Waterford, Kilkenny and South Tipperary, on to Cork and Kerry and even further to Mayo, reads like a flow chart of the invasion. Research on the patterns of settlement of Walsh families in the early territories would provide a window into the whole Cambro-Norman colonisation. By the mid 19th century Walsh was most common in Cos Kilkenny, Cork and Mayo.
It is the fourth most common name in Ireland (after Murphy, Kelly and Sullivan) and the 325th most common name in the US.