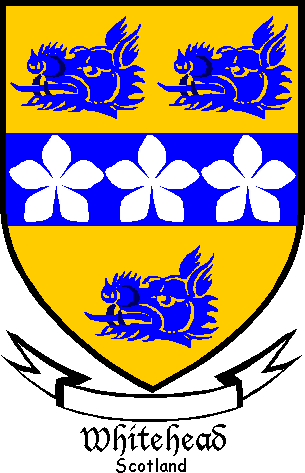 Get this crest printed on...
WHITEHEAD Family History
Recorded in a number of spellings including Whithead, Whitehed, Whithed, and Whitsed, this surname is of English origins. It usually derives from the Olde English pre 7th Century word "hwit" meaning white, plus "heafod", a head, combined to form a descriptive nickname for someone with white hair. Many early surnames originate from medieval nicknames, and this is one of them. With men generally dying at about age forty, and women even younger, people with white hair were quite rare. Early recordings of the surname include Roger Witheved, who appeared in the Hundred Rolls of Huntingdonshire, dated 1273, and Adam Whytehevde of Hoton, who was a juror on an inquisition before the sheriff of Berwick in 1300...