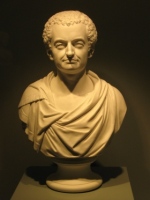 By Rufus46 (Own work)
[CC-BY-SA-3.0M or GFDL],
via Wikimedia Commons
Johann Peter Melchior
Porcelain modeller (born March 8th, 1747 / died June 13th, 1825)
The graceful porcelain models of Johann Peter Melchior earned him the name of "Modellmeister" (English: master of models) from the prestigious Höchst porcelain factory. His work can be classified as somewhere in between Rococo and Neoclassicism. His love for art started when he was just a young boy, and his talent for the creation of porcelain statues and figurines soon became evident during his apprenticeship in Düsseldorf.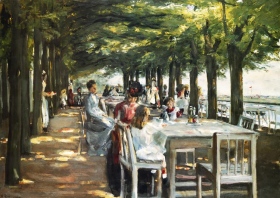 Max Liebermann [Public domain],
via Wikimedia Commons
Max Liebermann
Impressionist painter and printmaker (born July 20th, 1847 / died February 8th, 1935)
When people talk about Impressionism in Germany, the name Max Liebermann will usually be mentioned sooner or later. He was of German and Jewish heritage, and created very beautiful images that have not lost any of their appeal. Some of his most popular works include "The Studio of the Artist", "Riding Donkey at the Seashore", "Boys bathing", and "Two Riders at the Seashore".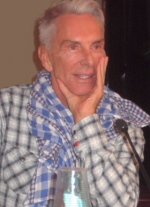 WolfgangJoop - By Hans Weingartz [CC-BY-SA-2.0-de],
via Wikimedia Commons
Wolfgang Joop
Fashion designer - (born November 18th, 1944 / still alive)
Wolfgang Joop is a name that is well known internationally as he is a rather famous fashion designer, and also has a company that sells cosmetics and perfumes. The perfumes have won multiple awards internationally, and his fashion is always very popular. Joop is not just a fashion designer, you can also see some of his creations of art in a museum in Hamburg. Apart from being quite an artist, he also wrote a few books, and regularly writes for magazines and newspapers.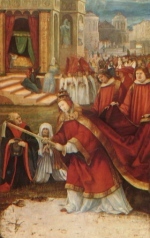 Matthias Grünewald [Public domain or Public domain], via Wikimedia Commons
Matthias Grünewald
Renaissance painter (born sometime around 1470 / died August 31st, 1528)
While Matthias Grünewald actually lived during the time when Renaissance classisicm was on the rise, he kind of ignored that development and continued to paint his religious paintings in a style that can be compared to the late mediveal art of Central Europe. His has only been discovered in the late 19th century because not many of his paintings had survived, and were falsely credited to a different painter. His best known piece of art his called the "Isenheim Altarpiece".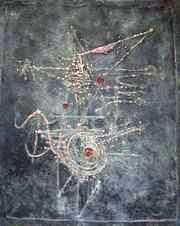 FriedlaenderBronzereliefe - By User:Anlace (Own work) [Public domain], via Wikimedia Commons
Johnny Friedlaender
20th century artist (born December 27th, 1912 / died June 18th, 1992)
The beautiful art works of Friedlaender have been shown in countries like France, Japan, the United States, Italy, the Netherlands, and of course Germany. He was born in Prussia, had a gallery in Paris, and also lived in Dresden after finishing his time at the Academy of Arts in Preslau. During his life, he has not only created a fantastic body of art, but he also influenced many other artists. He used a process called aquatint etching, which is rather difficult and only truly mastered by few – yet he did indeed master the technique and could be called something like a pioneer.
Otto_eckmann - Lovis Corinth [Public domain], via Wikimedia Commons
Otto Eckmann
Painter, graphic artist, and typesetter (born November 19th, 1865 / died June 11th, 1902)
Have you ever used the font Eckmann? If yes, then you can thank Otto Ettman for this typeface. Of course, while he was alive, he did not think of it as a font, he would not have known anything about computers. Apart from creating a typeset (which was influenced by his interest in the beauty of Japanese caligraphy), he was also a rather famous German painter. He painted in the style called "Jugenstil", and kind of focussed on floral images. He also passed on his knowledge by being an instructor for ornamental design.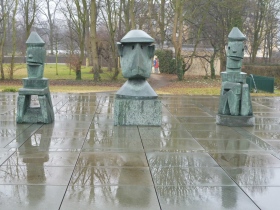 By Hans Weingartz / Leonce49 (Own work) [CC-BY-SA-3.0],
via Wikimedia Commons
Max Ernst
Multi-talent (born April 2nd, 1891 / died April 1st, 1976)
Max Ernst was truly a man talented in a lot of fields. He did not only paint and sculpt, he also worked as a graphic artist, and in addition to that he also found the time to be a poet. Modern musicians sometimes use his art as album covers (e.g. the American group "The Mars Volta"). Most of his paintings were surrealistic. Some of his most famous works of art are: "The Hat makes the Man", the "Forest" series, "Napoleon in the Wilderness", "Birth of a Galaxy", his Bird sculpture, his Capricorn sculpture, and his Histoire Naturelle.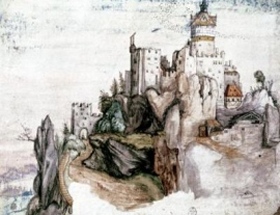 Chateau-fort-Durer - Albrecht Dürer [Public domain], via Wikimedia Commons
Albrecht Dürer
Multi-talent (born May 21st, 1471 / died April 6th, 1528)
Albrecht Dürer is one of the most famous German artists. He is known for his woodcuts, his paintings, his printmaking, his works as a mathematician, and also through his occupation as a theorist. You could say that the man knew how to keep himself busy and leave a lasting legacy. He became famous all over Europe when he was still only in his twenties. Throughout his life, he created an incredible body of work. This includes paintings, altarpieces, engravings, and woodcuts. Some of his best known and most loved pieces of art are: the woodcut series "Apocalypse", the print "Knight, Death, and the Devil", and his beautiful landscape paintings (he was actually one of Europe's first landscape painters).
See also: